Not much has changed with me VT since the last post. Put the new brakes on tho. And bought a set of original SS wheels for it. Had a blowout on a 20 and killed it, will get it repaired tho, maybe when I get me tax back. Just doesn't look as nice without the 20's. Did have it rolling on black cop rims for a while, which I prefer over the SS wheels lol.
Got the diff changed the other day. Ever since we've had it the diff has whined, and all these Adelaide trips hasn't been doin it to good and the whine was getting louder and louder. So bit the bullet and replaced it.
Got defected for the tint being to dark and exhaust being to loud. Then b4 the time limit ran out on that we scored another defect coz the back tyres weren't the best.....just camber wear tho lol. Already got the tint pulled off (spewin, only been on a few months) and will make up some restrictor plates for the pipes this week. Then chuck stockies on all round and we'll go get a permit to drive it until regency comes thru Pirie next. Car ran out of rego a few days after the defect, and was planning on leaving it off the road for a month or 2 when the rego ran out, but figured it's gonna be easier getting the defect off with rego, so luckilly could rego it over the net b4 motor reg updated their system (can't rego a defected car).
Took a pic the other night playing with me mates camera.....bout half hour b4 the second defect got put on lol.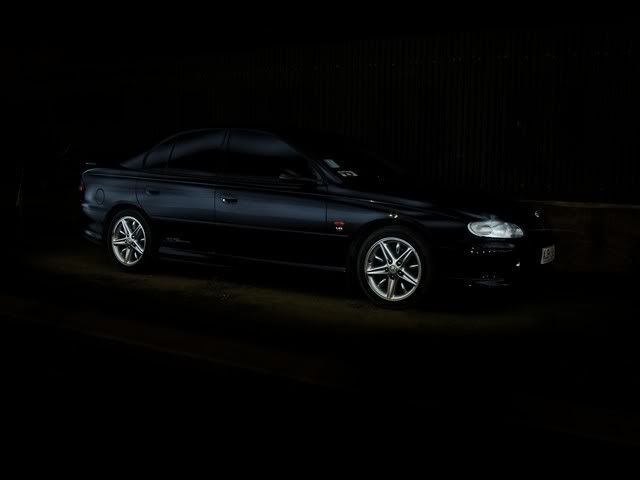 Brad bought an L300 van the other day so the VT won't be getting driven as much now. Will give me a chance to do a few more things on it now, like changing the front windows to power windows, and cleaning up the engine bay. It's been Brad's daily ever since I bought it. Will get the windows done again when the defect is off, will only go 35% this time tho, don't wanna waste another 300 bux. Also still wanna put some lower springs in it. FE2 still sits to high. Superlows are to low tho....maybe lows are the go, but I rekon they're similar to FE2?? Can't win lol.